Have a Friend who would love this ? Spread the Love 💙💙
This is the most complete Technical SEO checklist on the internet.
You need to maximize your SEO efforts if you want to succeed online.
The best part?
Everything on this list is working GREAT right now.
So if you want higher Google rankings in 2021, you'll love today's checklist.
Let's dive right in…
Technical SEO is one of the most fundamental aspects of SEO.
You may have the most incredible piece of content for a popular topic in your niche, but if your site has unresolved technical SEO issues, you'll struggle to rank high in search engine result pages (SERPs).
As a result, it's really important that you spend some time optimizing the technical SEO of your website.
In this article, I'll explain the key aspects of technical SEO and share actionable tips you can implement right away to improve your site's search presence.
But first, let's cover some basics about technical SEO.
What is Technical SEO?
Technical SEO refers to improving the technical aspects of a website in order to increase the ranking of its pages in the search engines.
Making a website faster, easier to crawl and understandable for search engines are the pillars of technical optimization.
Technical SEO is part of on-page SEO, which focuses on improving elements on your website to get higher rankings. It's the opposite of off-page SEO, which is about generating exposure for a website through other channels.
The team at Yoast summarizes this concept well:
In the most basic terms, technical SEO involves improving the technical aspects of your website to help it rank higher in search results. It is a broad field that covers a wide range of SEO topics, including:
Mobile optimization
Site speed
Site structure
SSL certificates
Image SEO
Internal and external links
Canonical URLs
Technical SEO can make or break your rankings. Fortunately, fixing technical SEO problems isn't that hard… especially if you follow the items on this checklist.
10 Actionable Technical SEO Checklists
Now that you know the basics of technical SEO, here are 10 tips you can use to improve your site's technical SEO and boost your search rankings.
1. Make Sure Your Website is Mobile-Friendly
Let's start with the most basic technical SEO tip.
If your site isn't mobile optimized, it's not going to rank very well.
Fast forward to the present day, having a mobile-friendly website is more important than ever.
So how do you check the mobile-friendliness of your website? You can use any of the following free tools:
Google's Mobile-Friendly Test will determine whether your website meets Google's criteria for a mobile-optimized website.
HubSpot's Website Grader and GTMetrix provide deeper insights into what you can do to improve the mobile-friendliness of your website.
2. Create and Optimize Your XML Sitemap
Sitemaps are necessary for Google to find and index your webpages.
When optimizing your website for SEO, one of your goals is to provide Google the right signals so that it can index your website better.
An optimized XML sitemap is one of those signals that can lead to faster indexing and higher rankings.
Luckily, it's easy to create an XML sitemap. If you're a WordPress user, you can generate it using free WordPress plugins such as  Yoast or Google XML Sitemaps.
Once you've created the sitemap, submit it to Google via Google Search Console.
To do this, login to your Google Search Console account and navigate to Sitemaps -> Add a new sitemap and then hit "Submit."
Once your sitemap is successfully submitted, follow these XML sitemap best practices:
Prioritize high-quality pages in your sitemap
If you've got a big site with over 50,000 URLs, use dynamic XML sitemaps
3. Speed Up Your Website
Does your site load insanely fast?
If not, your site isn't going to rank as well.
Site speed matters. Make no mistake. If your site is slow and takes a long time to respond, Google will place a small penalty on your website.
Page speed is also important to user experience. Pages with a longer load time tend to have higher bounce rates and lower average time on page.
Longer load times have also been shown to negatively affect conversions.
This is a technical SEO aspect that you simply can't afford to ignore.
Use any of the following free tools to test your site speed:
If your site is taking a long time to load, it can seriously impact user experience.
4. Fix Your Site Errors by Performing Weekly Technical SEO Site Audits
You need to fix your on-page SEO issues by running a weekly technical SEO audit if you'd like to rank higher in SERPs on a consistent basis.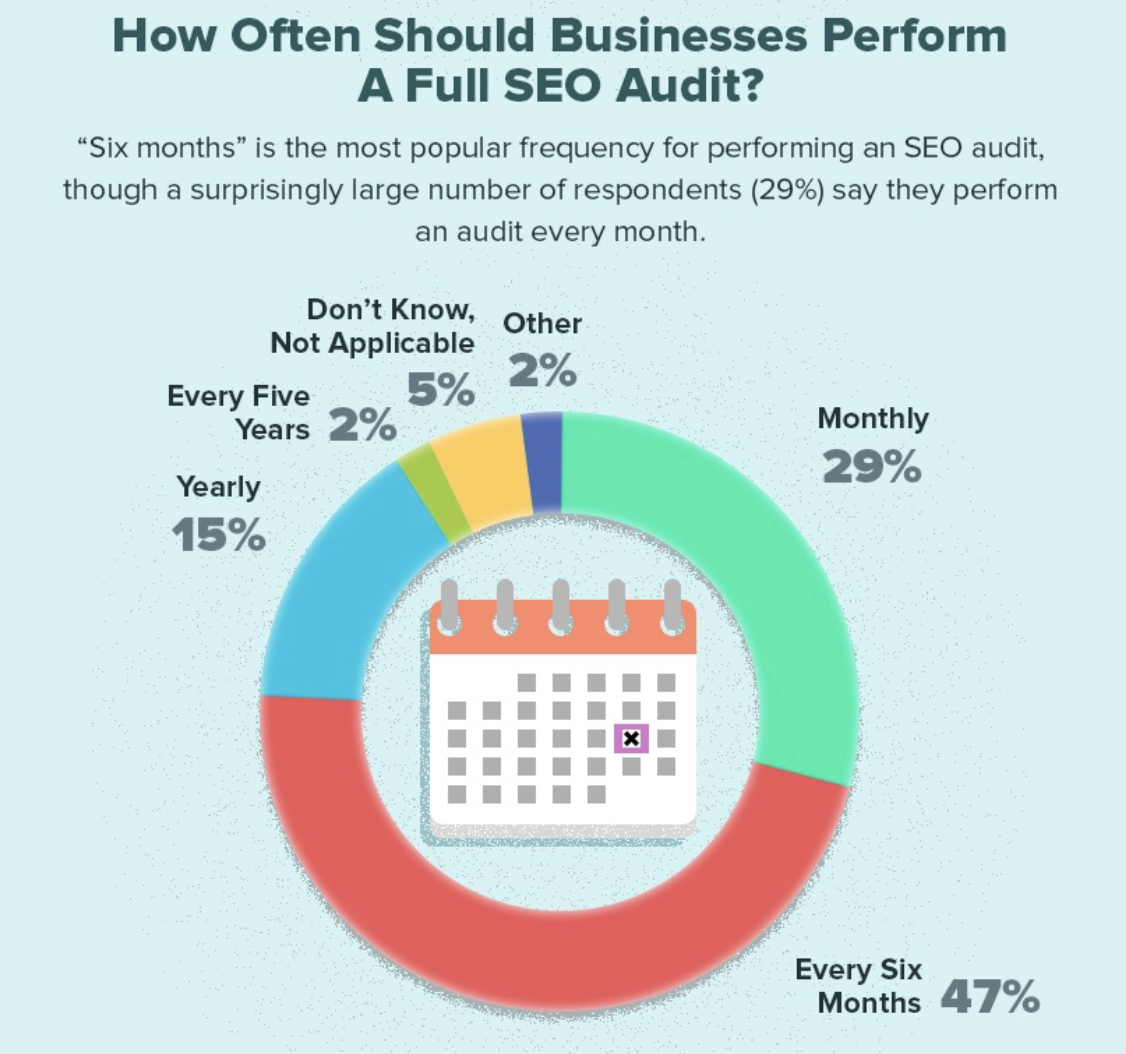 So how to perform a technical SEO audit?
There are several tools on the market that can help you do this.
Semrush, Moz, and Ahrefs are all great tools (Paid).
Alternative is Ubersuggest (FREE)
Complete Guide here: How to Perform a Technical SEO Site Audit
5. Optimize Internal Links
An internal link is a hyperlink that points to another page on the same website.
While internal links may not have the same influence on search rankings as external links, they still play a critical role in helping search engines understand the information hierarchy for your website and establishing an SEO-friendly site architecture.
To learn more about optimizing internal links on your website, check out this in-depth guide on internal links.
6. Include Your Main Keywords in Image Alt Text
Google can't see what's in an image. Rather it uses metadata such as the image file name and image alt text (alternative text) to determine what's in an image.
Alt text (alternative text) describes an image on a web page. It lives in the HTML code and is not usually visible on the page itself.
But what's so important about alt text? And how can you use it to improve SEO and user experience?
Alt text matters for four main reasons.
Improves accessibility
Can improve 'topical relevance'
Can help you rank in Google Images
Serves as anchor text for image links
7. Use Canonical URLs to Avoid Duplicate Content Issues
A canonical tag (aka "rel canonical") is a way of telling search engines that a specific URL represents the master copy of a page. 
Using the canonical tag prevents problems caused by identical or "duplicate" content appearing on multiple URLs.
Your first priority should always be to delete the duplicate content on your site. Once again use an SEO tool like SEMrush to scan and fix duplicate content issues on your site.
So in order to avoid content duplication and a Google penalty, set up a canonical URL using the rel-canonical tag. You can add the rel-canonical tag via Yoast SEO WordPress plugin.
Just navigate to advanced settings on Yoast, then go to Canonical URL and enter the URL of the original article.
8. Install an SSL Certificate for Your Website
Google confirmed back in 2014 that SSL certificates aka HTTPS encryptions are now a ranking signal.
So if you haven't already, it's time to move your site to HTTPS.
So if you've been thinking of getting an SSL certificate for your website, now is the time to upgrade, not just for enhanced security, but also for SEO.
9. Check and Fix Crawl Errors in Google Search Console
Check for crawl errors in Google Search Console once a week and fix them promptly as these are serious technical issues that may hinder the performance of your website and hurt your rankings.
While you're at it, check your robots.txt file as well to make sure you're not blocking pages that shouldn't be blocked.
10. Find and Fix Broken Links on Your Site
Broken links are those on your site that point to non-existent resources these can be either internal or external.
Broken links are not just bad from an SEO perspective, but they can also harm the user experience on your site.
Which is why you need to check for broken links on your site on a regular basis and fix them as and when they appear on your site.
You should, therefore, make every effort to fix them it's easy.
Luckily, there's an easy fix to this problem use ahrefs free Broken Link Checker.
Technical SEO Checklist & Summary
Technical SEO often takes a backseat to on-page and link building aspects of SEO. But it is equally important to fix technical issues on your site to perform better in SERPs.
To summarize, here's the 10-point technical SEO checklist to increase your website traffic:
Optimize your website for mobile devices
 Create and Optimize Your XML Sitemap
 Boost your website's speed
Fix site errors and warnings with weekly site audits
Optimize internal links
Include your main keywords in image alt text
Use canonical URLs to avoid duplicate content issues
Install an SSL certificate
Check and fix crawl errors in Google Search Console
Find and fix broken links on your site
Which is your favorite technical SEO tweak? Let us know in the comments section.