Have a Friend who would love this ? Spread the Love 💙💙
What is SEO & Why is it Important?
SEO stands for search engine optimization. By definition, it is the process of optimizing your website and webpages to get "free", "organic" traffic from search engines like Google, Yahoo and Bing.
As a business owner, blogger, or website owner, your job is two-fold: First, you need to make it easy for search engines to understand what your page is about and create content that matches what we call, the "searcher's intent."
Second, you need to show Google and other search engines that your pages are 'worthy' of ranking. There are plenty of clear examples and some basic (yet powerful) SEO tips to optimize a brand-new website to rank #1 on Google.
What goes into SEO?
To understand the true meaning of SEO, let's break that definition down and look at the parts:
Quality of traffic. You can attract all the visitors in the world, but if they're coming to your site because Google tells them you're a resource for Apple computers when really you're a farmer selling apples, that is not quality traffic. Instead, you want to attract visitors who are genuinely interested in products that you offer.
Quantity of traffic. Once you have the right people clicking through from those search engine results pages (SERPs), more traffic is better.
Organic results. Ads make up a significant portion of many SERPs. Organic traffic is any traffic that you don't have to pay for.
How SEO works?
SEO works by optimizing your site for the search engine that you want to rank for, whether it's Google, Bing, Amazon or YouTube.
Specifically, your job is to make sure that a search engine sees your site as the overall best result for a person's search.
How they determine the "best" result is based on an algorithm that takes into account authority, relevancy to that query, loading speed, and more.
There are hundreds of ranking factors Google's algorithm considers in response to searches, and they are constantly updating and refining their process.
The techniques that are used in this SEO training include:
1. Keyword research
Keywords are the foundation of SEO. If nobody is searching for what you're writing about, you won't get traffic from Google—no matter how hard you try.
The first step in search engine optimization is really to determine what it is you're actually optimizing for. This means identifying the terms people are searching for (also known as "keywords") that you want your website to rank for in search engines like Google.
By doing keyword research, you can see the average number of times someone searches for a specific keyword phrase in Google each month. Often times, the query that you think will be the most popular is often far from the truth.
Keyword research gives you clues on the language you should use to let both Google and potential customers know what our page is about. There are a few vivid examples in here to illustrate the best practices on how to do keyword research.
Why is keyword research important?
Keyword research is the only way to figure out what people are typing into search engines. You need to know this to avoid creating content about things that nobody is searching for. Many website owners make that mistake, and it's likely a big part of the reason why 90.63% of pages get no traffic from Google.
Here are some free keyword tools to help kickstart your SEO with zero investment:
Keyword Sheeter;
Keyword Surfer;
Google Search Console;
Questiondb;
Bulk Keyword Generator;
Google
RELATED : Digital Marketing Guide Made Simple
2. On-page SEO
SEO is the process of optimizing web pages with the intention to rank high in Google. If you want to rank #1 on Google, then your on-page SEO will need to be right on.
On-page SEO is the practice of optimizing web page content for search engines and users. Common on-page SEO practices include optimizing title tags, content, internal links and URLs.
Having optimized web pages will set the foundation for your success in search engine optimization. It will help Google understand what your content is about and help your customers find you. A few of the basic tips include: –
Title tag optimization
Meta descriptions
Heading tags (or H1 tags)
keyword usage
content creation
competitor analysis
Content optimization
Page performance optimization
Internal linking
Why On-Page SEO Is Important
On-page SEO is important because it helps search engines understand your website and its content, as well as identify whether it is relevant to a searcher's query.
As search engines become more sophisticated, there is a greater focus toward relevance and semantics in search engine results pages (SERPs).
Google, with its plethora of complex algorithms, is now much better at:
Understanding what users are actually searching for when they type a query.
Delivering search results that meet user intent (informational, shopping, navigational).
3. Off-page SEO
Off-page SEO simply tells Google what others think about your site.
On-page search engine optimization happens within the site, while off-page SEO happens outside the site. If you write a guest post for another blog or leave a comment, you're doing off-page site promotion.
Off-page SEO is about everything that doesn't happen directly on your website. Optimizing your website is called on-page SEO and includes things like site structure, content and speed optimizations. Off-page SEO is about, among other things, link building, social media, and local SEO. Or in other words, generating traffic to your site and making your business appear like the real deal it is.
Off-page SEO is mostly about getting quality backlinks to show search engines that your website has authority and value. Link building may involve techniques like:
Guest blogging
Email outreach
Broken link building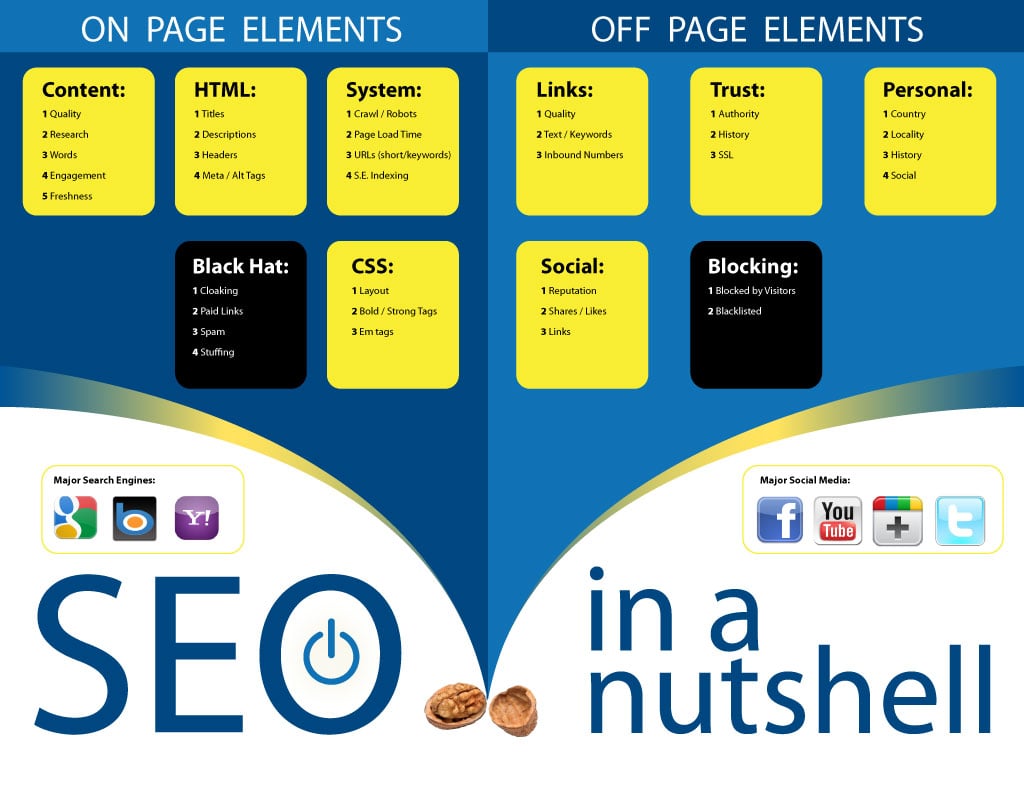 4. White hat SEO vs. black hat
Black hats and white hats have their origin in Western movies. They represented bad guys and white guys.
In SEO, the terms are used to describe two groups of SEOs – those who adhere to the rules set out by Google's Webmaster Guidelines and those who don't.
Black hat SEO is a set of unethical (and usually spammy) practices to improve the rankings of a website.
These techniques can get you to the top of the search results in a short time, however, search engines will most probably penalize and ban the website sooner or later.
As a black-hat, you may:
Break (or at least 'bend') Google's guidelines;
Focus on search engines over users;
Attempt to deceive users with things like cloaking and doorway pages;
Hack into peoples' websites.
White hat SEO, on the other hand, refers to all the regular SEO techniques that stick to the guidelines and rules. It is a long-term strategy in which good rankings are a side-product of good optimization, quality content, and a user-oriented approach.
White-hat SEO refers to the usage of Google-approved website optimization strategies, techniques, and tactics. The focus here is on providing users with the best search engine results.
As a white-hat, you will generally:
Play by Google's rules (they're pretty clear about these in their guidelines);
Optimise for humans not search engines;
Create quality content that people actively want to read and share;
Create a website that stands out from others in your niche (for the right reasons!)
While SEO experts agree that "white hat" is the way to go, there are different opinions on the acceptability of various link building techniques (including link buying).
Final thoughts
Search engine optimization (SEO) can be competitive, but it is still by far the most effective way to drive sustainable traffic to your website.
Moreover, the efforts you put in optimizing your website for search add up over time, helping you get even more traffic as long as you're consistent with SEO.
If you think I missed some other crucial search engine optimization basics, please let me know in comments!